If this year did not have so many good movies, I would have declared this one
The Best Movie
of the year. Well atleast this is definitely the
Best Comedy Movie
of the year. Not to be missed. It falls in the same category as
Garam Masala
.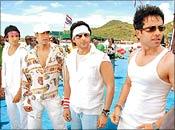 3 out of 3 of us loved it. And the whole theatre audience was with us. Laughing throughout.
It began with a tapping
Golmaal
song. Sleazy video definitely, but it ends. And then starts the non-stop
clean
Laughfest. The whole theatre was in splits. I was breathless by the end.
Then, there was another chanting
Golmaal
song, very infectious again. The flashback-time-travel song,
Kyon aage piche
, was totally unnecessary but extremely refreshing & well made.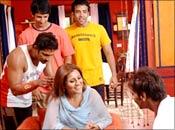 The film hardly had a story. Ok, it did have a four-line story; but we were more concerned about the one-liners. All of them woven around innumerable pranks, along with car chase, heroine chase and finally treasure hunt.
All characters played their part well. The bully Ajay,
thali-ka-baigan
Arshad, dumb but smart alec Tusshar and his voice, the much bullied Sharmaan. These 4 along with the lovable and very endearing blind old couple - Paresh & Shusmita. And not to forget the Sanjay Dutt
bhakt
Garage owner, Mukesh Tiwari
Brilliant moments would have to be the one with
Jaws
track in background and the '
Black-Black khel rahen hain
' scene :))
Definitely watch it.