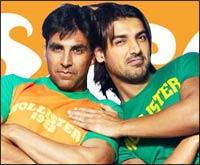 Watched
Garam Masala
6 hours ago. It was good. Considering I was watching a movie in theatre with friends, after a long time. The movie was good, I mean.
Among the song, my favorites are
Ada
, simply for the way Sonu Nigam plays around with the word. And
Garam Masala
, for the rap part of it and more importantly for the signature tune, the whistling type. Very catchy and smile inducing.
Well, the movie is about Makhrand or Mac (Akshay) and Shyam or Sam (John Abraham) and their jugglery. Paresh Rawal plays their cook, who bears with it all. Which means tremendous scope for face contortions, especially when he has to keep his mouth shut. He had the minimum dialogues, which is a waste considering his part in
Hera Pheri
. Other characters come & go. Oh the girls. Ya they all looked good in their air-hostess uniform, which was expected of them.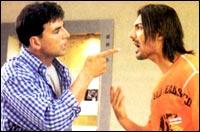 The movies moves so fast that there is no time to think about morals or ethics part. Plagiarism and debauchery is not an issue. Stopping the 'Bangkok flight' from opening the middle room door is. Akshay's emotional cycle is the high point of comedy here. One moment he is cursing and next he is a giggling, sweet talking jerk. Abraham is the manipulative goof here. He executes it well with his looks alright, but he's got a lot to learn. And the living room sofa ! My my !
Everybody
trips the sofa,
all
the time. The only disgusting part was the way cook dumps food in the bin. Okay okay it's a comedy, plus they don't show the actual food; so it's ok. Priyadarshan, as usual, delivers a
paisa vasool
The movie was two and a half hour long, but the whole thing felt like 5 minutes !
And oh, the parting shot of the movie - now that's delicious. Not to be missed !