Omkara is a good watch. 5 out of 7 of us liked it.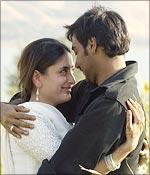 Inspite of knowing what it is about and how it might end (
Othello
), the movie has a lot more to offer. Power dynamics, which can apply anywhere in the world. Dangers of naivety and being openly vulnerable. And when bad luck
piche padtha hain, toh koi nahin bacha sakta
. That happens to Ajay Devgan because of his misjudgement. And to Vivek for no reason at all.
The setting is supposed to be the Wild West of Uttar Pradesh. It definitely looked like one. The grand old lady and all wedding ritual songs were from UP. But the dialogues definitely sounded like Haryanvi. That was the only jarring note. For a violent setting, there was immense amount of menace around. And lot of seething anger. But never rage, only cold blooded stuff.
There was a lot of Humor though. For the
'way to mans heart'
part, the whole theatre was in splits. Kareena even gave a pause for the audience to settle down - pretty much like it happens on a sitcom. And mobiles phones and "
SM
". And Rajjo, the comic-villian partner for Iago.
Music was great. Like gemstones on that
cummerband
. Title track '
Omkara
' played to an apt scene to establish the power of Omkara/Othello. '
Beedi
' was onscreen crowd-rousing. '
Namak Ishq ka
' was beautiful redention, very foot-tapping. Background music was efficient – came up as and when required. And so didn't give the mandatory headache after the show.
Exceptional perfomances by Saif Ali Khan, Konkona Sensharma and Ajay Devgan.
Ajay Devgan was menancing in a underlying way. And offside, this movie is also a chance to see him shirtless.
Thank God for Konkona Sensharma. What would we have done without her brand of humor in this movie.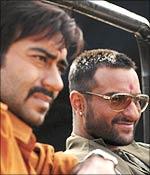 Saif Ali Khan/Iago was ultimate ofcourse. All hype about him was well-deserved. Not even a bit of his refined self was in the movie. He was menancing in a very overt way. Much more from '
Ek haseena thi
'. And then, the subtlety with which he bites his disappointment - that was a classic display of both his & director's skill. Subtlety is the key in all power struggles. Inspite of all the guns & violence & freedom for lawlessness around, he cannot announce his conflict openly. Now if he were to receive National Award for this movie, that would be undisputed.
Kareena/Desdemona looked beautiful against the stark surroundings. Detailing was also perfect. She had polished long nails in left-hand and right hand ones with short nail and nail-polish bits. She carried her part well – that of a perky naïve beauty through-out, ending with clueless disillusionment at her most awaited occasion.
Vivek Oberoi, well that role could have been played by a voice-over or nobody at all, and no one would have missed anything.
All other characters were well-etched. The only odd one out would have to be Bipasha. She could barely mouth those heavy
gaalis
.
Nahin hota hain, toh nahin bolna chahiye. Simple bolna chahiye.
But she was definitely needed. For the two riveting numbers - '
Beedi
' and '
Namak Ishq ka
'.