Nach Baliye
aired it grand finale yesternight. It was a good show, wrapping up at 12:30 AM. Reminded me of the good old Doordarshan times New Year programs. (They don't do these anymore).
All these weeks, only the ten couples have been dancing, with one dropping off every Thursday. This time every one danced. The finalists danced to
Aa dekhe zara
, the ultimate Hindi film song for a couple competition dance. So did the other couples, even the anchor couple. And the lead pairs of a new upcoming series. Even Farhan swayed to
Nach Baliye
song, which was cute, accompanied by Malaika and Saroj.
Okay, my favorite
jodi
have been
Rajeev-Delnaaz
. They were cute and hardworking. Delnaaz was so lively. And Rajeev's
Mithun
number was the ultimate. Of course the judges are biased. They gave glowing praises and full marks for a lousy
Don
song. Na I mean, the song
Khaike paan banaraswala...
is a gem. Varun performed some lousy parady and that too very ineffectively. And the way
Varun-Rajeshwari
have been sulking ! It's as if they have been well compensated to keep their mouth shut, but need to sulk to blame the producers for snatching away all fame. This is my conspiracy theory. What else can explain the way judges kept putting
maska
to this couple, though they put up a
faltu
collage of all well-known actor dance styles.
One more
jodi
, not exactly a favorite, but they kind-of grew on me -
Amit-Neeru
. First it was irritating to hear him crib after every performance. But he gave a very dignified and sportive goodbye speech. And that day they had given their best performance.
Kab tak ... Mujhse Shaadi Karogi
he was in white sherwani and she in lovely pink ensemble.
Anyway moving on to the good couples,
Parmeet & Archana
were the beauty in this whole ensemble. To quote Farhan, "... the positive vibe which you two create.. its very addictive..." Seriously they were the second best. Great dance and witty remarks.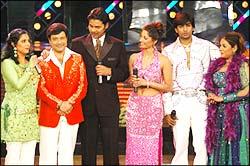 So the best
jodi
is
Sachin-Supriya
(my vote to them as well). Seriously they almost danced
ekdum dil-phek-ke
. It wasn't like huge effort or so. Just fun and enthusiasm. That's what dance is, according to me.
It was also a good show, cause they gave equal footage to the runner-up
Poonam-Manish
, after the results were announced. Acknowledged all choreographers. Indeed this must be a very good career opportunity for the choreographers and various designers. One more thing, I must say, this show demolished any remnant wonder at bulky people indulging in fast dance. I mean, we always had Saroj Khan. But now we got to see non-professional dancers like Delnaaz, Manasi and Poonam dance very well and enjoy themselves, inspite of their extra pounds.
And for some reason, this reminded me of all school competitions. Only here, parents were competing and kids cheering ! Over all a very well choreographed show indeed !