Running has been a part of the Indian movies cardio-dance sequences.
Hero-Heroine running towards each-other from the 2 sides of the wide-screen. Or running around the trees.Or slow-mo running for Hero entry scene.
But thinking about some realistic running, I feel there is no better runner than Anil Kapoor.
My favorite Mr Fittest.
This is him running in the movie
Saaheb
. The most real jog ever seen in a movie.
Then so was his sprinting in Tezaab. And many
others
.
I think there is a gif of him running in Badhaai Ho Badhaai. Very unrealistic speed for someone in bulky prosthetic. Got to look for it.
And here are a few instances of slow-mo glamorous running. I heard there was a superstition for a long time, that any movie featuring SRK running, was a sure-shot hit-blockbuster. Hence many showcase this.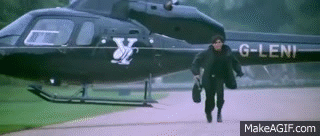 SRK in K3G
SRK in K3G
The one in
KKHH song
is done right. The music tempo and running speeds match perfectly well.
SRK running in Kuch Kuch Hota Hain